On January 24, the signing ceremony of the cooperation between our college and French Brest Business School was performed in Qingdao. Shen Dai, the executive chairman of the board of directors and the president of Brest Business School, Zhu Zhiting, the co-chairman, the relevant leaders of Weidong Cloud Education Group, Kong Fanshi, the president of our college and other persons participated in the signing ceremony.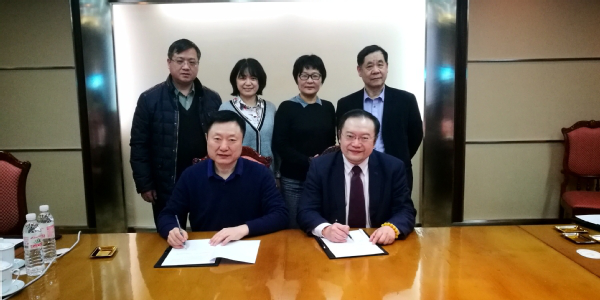 In the signing ceremony, Kong Fanshi firstly introduced the school-running characteristics and international cooperation progress of our college. He pointed out that our college adhered to the international opening-up school-running characteristics, actively carried out diversified international cooperation and exchange, and created an all-around and multi-layered international exchange cooperation platform. He hoped to actively deepen the exchange with Brest Business School and drive the cooperation to produce a result as soon as possible by starting from the signing ceremony.
Shen Dai, the president of Brest Business School endorsed the international school-running idea of our college. He indicated that the coming age was an artificial intelligence age. The traditional school-running mode was unable to satisfy the demand for age development, so the students were required to master more skills. To promote the students to increase their abilities and the higher vocational education to develop, these two schools needed to fully cooperate with each other for innovative education and realize the mutual benefit and win-win result.
After that, Wang Duanrui, the president of Weidong Cloud Group met Kong Fanshi, the president. The parties deeply communicated with each other and reached a consensus for the innovation education, higher vocation education reconstruction capacity research and so on. And then, our college and Weidong Cloud Education Group reached a memorandum for the specific cooperation intent.