Recently, the 22nd China Annual Conference for International Education and Expo (CACIE), sponsored by China Education International Exchange Association, was held in the Beijing International Convention Center. With the theme of seizing new opportunities, creating new situations, and establishing an open and high-quality education system, the participants of the conference discussed the new opportunities and challenges in international education exchanges and cooperation, and drew a new blueprint for global education cooperation. Dong Lisheng, vice president of our college, was invited to attend the seminar on China-foreign cooperation in running higher vocational education, and made a keynote speech entitled Promoting the High-Quality International Development of Vocational Education through Cooperation among Various Parties.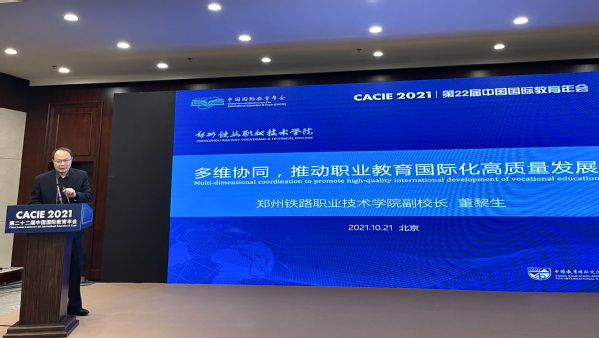 In his speech, Dong Lisheng briefly introduced the current situation of Sino-foreign cooperation in running schools of our college, and shared our college's experience and practice of promoting China-foreign cooperation in running schools and internationalized school-running practice from the three aspects of school-running mechanism, school-running elements and school-running activities. He said that at present, the international development of vocational education had entered a new stage, and that vocational universities in China were shifting from followers and learners of existing experience and models to participants that contribute to the formulation of standards and rules, and exporters of educational resources. In the process of this transformation, there is ample room for the development ofChina's vocational colleges.
In the round-table conference session, Dong Lisheng introduced his experience with a speech about the strategic view, quality view and governance view of Sino-foreign cooperation in running schools.
At the conference, the participants shared and exchanged effective methods and cases in the practice of Chinese and foreign vocational education in their respective colleges and universities.This study and exchange has expanded our school's vision of international schooling, and provided new ideas for the school to build a higher-quality and higher-level education opening system and open up a new pattern of international schooling.